School Management During the COVID-19 Pandemic
In an ongoing crisis, effective performance management empowers educators for success today, adapts with them in real-time as changes occur tomorrow, and ultimately positions educators to emerge stronger in the future.
Engaging Students & Staff.
Evaluating Performance & Productivity.
Encouraging Culture & Accountability.
The COVID-19 pandemic has the world dramatically changing, and in turn, educators are having to adapt in order to meet the needs of the current climate.
Define New Expectations
District and school leaders not only have new expectations for their staff as new processes and strategies are used for student engagement, but also new expectations for professional development and PLCs that have shifted to virtual platforms. The expectations for vendor accountability are more important than ever in a dynamic environment that is dependent on quality service.
Distance Learning:
Staying active with school communication
Completing and submitting assignments
Professional Development:
New Processes and strategies for staff
PD & PLC expectations with virtual platforms
Vendor Accountability:
Quality service and support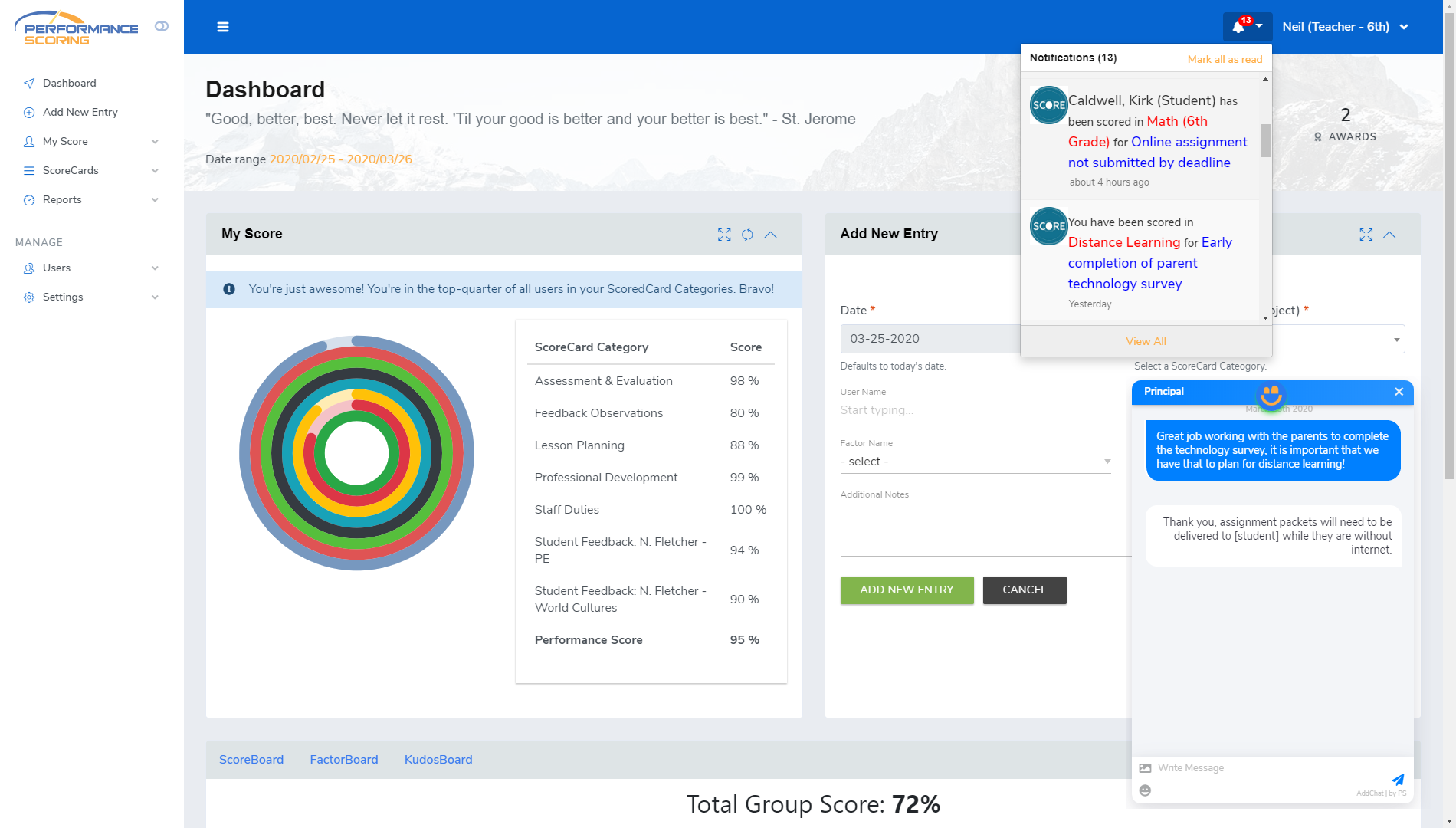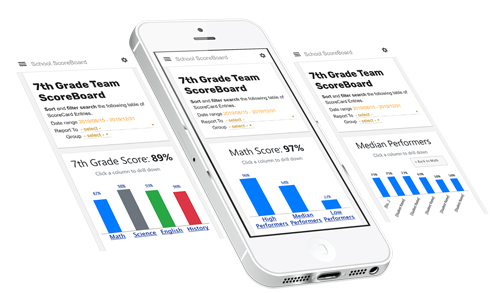 During a crisis, continuous performance management is critical as educators are pivoting to new processes and strategies. In this dynamic, rapidly changing environment Performance Scoring measures performance and promotes course correction before negative results occur. Communication of expectations, progress, and achievement are more important than ever, and Performance Scoring automates this communication to inform all relevant stakeholders in real-time.
Factors - Measure What Matters
Performance Scores are determined by Factors, the objective measurables that stakeholders in the organization know lead to success or failure in each organizational role.
Drill Down to Individual Users Based on Performance
Instantly have access to the Performance Scores of the entire class, department, grade, school, district, and region along with each relevant individual user. Performance Scores reflect the entire individual or group's performance in a given time, relative to their peers and other groups scored in those same ScoreCard Categories within the organization.
Usage Reports - User Engagement in Action
Encourage and monitor adoption of Performance Scoring throughout your organization by reviewing Usage Reports of the Performance Management Application detailing individual and group usage statistics. 
Strategize Proactively
With real-time, objective data organizations can proactively strategize based on user performance results and trends directing a more surgical approach that leads to desired outcomes. Instantly know the areas of high performance and those where coaching is needed, and have the historical data to objectively track development.
Student and Staff Development in Real-Time
Access to data and trends reflecting student and staff development are available in real-time. View growth month-over-month, quarter-over-quarter, etc. to realize the development and performance changes to each student, staff member, vendor, group, department, or the school and district as a whole.
Ownership and Confidence of Performance
With each student and staff user having access to their performance metrics they can take ownership and confidence like never before. Students and Staff both know exactly what matters to to their leaders, and can objectively relate to how management views their performance. Teachers and administrators can trust in their actionable plans because the can determine in real-time the results and impact of their decisions.