Performance Scoring's Human Capital and Performance Management Application has been released to the public. The Performance Scoring Application allows companies to score themselves through their employees scoring their direct reports, their peers, and if desired their manager(s), by the unique factors or KPIs in their unique company roles, with those factors created and valued as each company sees fit; all leading to greater company success through higher employee productivity, efficiency, and satisfaction.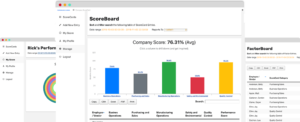 Performance Scoring has really empowered me, as a business executive, to better manage my employees performance, as much as it has empowered my employees to better manage their performance.
Southlake, Texas (PRWEB) August 13, 2018
Performance Scoring™ LLC just released it's public version of the Performance Scoring™ Employee Performance Management Application. Unlike employee evaluation and performance management systems of yesteryear, Performance Scoring is designed to be fully customized to individual companies and their company hierarchy, roles, and factors. Built on a very simple mission, to allow for companies to better manage their human capital through evaluating and scoring their employees, by their unique role factors, with each factor identified and valued by the company, then scored by the company in any time interval they want. What makes Performance Scoring's Employee Scoring Application unique are the wonderfully powerful reporting tools, all wrapped around an intuitive and fully responsive web application, making scoring, reporting, or otherwise interacting with the application is a breeze.
With two employee evaluation versions, Performance Scoring™, has entered the software as a service environment with both a supported and an unsupported version. Both fully capable, easily customizable, and designed to start scoring immediately, the supported version leverages all the benefits and features of the non-supported version but with a more personal and direct level of support that would be akin to an account manager who works directly with developers and company representatives to design, build, train, support, encourage adoption of customer employees, or otherwise help support their companies well.
Multiple scoring roles, along with a layered hierarchical reporting system, allow for truly dynamic reporting through the Performance Scoring™ interface. From drill down reporting, to exportable results and raw data, customers are empowered to own, use, and analyze their companies performance right down the role or individual employee. Performance Scoring customers can now focus their training and education resources, more directly and specifically, to effect positive change in their companies.
Under the Supported Version of Performance Scoring, companies can have confidence that their employee evaluation systems are commonly adopted throughout their company, ensuring objective and useful results that empower management to effect positive change. Perfect for companies that have little or no dedicated human resource components to manage whole company use and support of the Performance Scoring Employee Evaluation System. Along with a dedicated account manager that gives continued, direct, support and management comes the added feature of custom development of the platform to precisely fit the needs of each company.
The Performance Scoring Application has proven itself not only to the companies implementing it, but to the individual employees using it on a daily basis. Each employee has direct access to their individual scorecard, to see the areas they are performing well, and those areas they need to seek further training and coaching, with filter down reporting so they can determine their own trends and growth. Employees can drill down to the individual factors that build their score, understanding specifically the factors that have led to their score. The individual employee scorecards, empower employees to take ownership of their success and performance in ways not possible in the past, leading to overall greater employee satisfaction and morale.