To use the FactorBoard first log into your company's Performance Scoring application (yourcompany.performacescoring.com). See the menu on the left of the screen, click "Manage" and a dropdown menu will appear, select "FactorBoard." Here you will find each entry in tabled form displaying "Employee Name", "ScoreCard", "Factor Name" and "Total Factors." You can also sort by these columns or via the search bar above the table.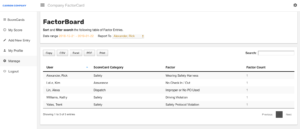 A date range filter is also available and allows you to view specific dates. A company hierarchy filter is also available by using the "Reports To" feature. You can also export into CSV, Excel or PDF files as well as copy or print by selecting the respective button.
For additional support please contact your Account Manager or email support@performancescoring.com.
Performance Scoring FactorBoard