Log into your company's Performance Scoring Application (yourcompany.performancescoring.com). Next, look to the menu on the left side of the screen, and select "Manage" and a dropdown menu will appear.  Select "Add New Entry".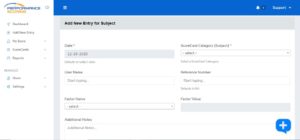 Type in the employee's name to be scored in the "Employee Name" field. Select the ScoreCard type from the "Entry Type" dropdown. Type in an invoice number, this is a reference identifier that ties the entry to your organization. Then select the Factor from the "Factor Name" dropdown and the corresponding factor value will auto populate. You may add additional notes if you please. Select "Add New Entry" to submit the entry. You are able to edit entries from the "ScoreCards" tab for 24 hours after submitting the entry. As a result, if you need to edit or remove an entry after 24 hours, please notify your Account Manager at Performance Scoring. 
For additional support please contact your Account Manager or email support@performancescoring.com.