Performance Scoring Reviews: 

Stuart Hearn's Article on 2019 Performance Management Trends
In Stuart Hearn's recent Innovation Enterprise article, "Three performance management trends to shake up 2019," he discusses what is on the horizon for performance management. It is important to know where success will be found with performance management because "if we don't keep up, our companies fall behind," begins Hearn. The idea of companies falling behind is one that continues to loom with the rise of the millennial workforce. An expected disconnect exists with millennials, but "each generation is motivated and driven by different factors." These trends are long-term solutions to continue developing employees and keep businesses thriving.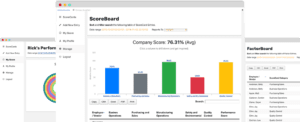 1) Discussions about mental wellness and wellbeing will become common during performance check-ups
Hearn's first trend is one of growing importance in society, mental health. In the private sector, mental wellness "is something we need to start discussing and taking seriously at work." Mental health and wellness are underlying challenges that are difficult to even recognize. However, "nobody wins when we refuse to discuss issues such as anxiety in the workplace," writes Hearn. When we quantify performance and have access to data and trends, we can try to be proactive about recognizing mental health issues. "Addressing these issues are fundamental when it comes to helping employees perform at their best, while retaining top performers," says Hearn. 
2) High-performance coaching will become increasingly popular
This trend is one that at Performance Scoring we can say we prioritize, fully support, and is fundamental to our approach with performance management. "This concept helps employee and manager highlight strengths and areas for improvement so that they can enhance certain vital skills," Hearn explains. "Regular feedback has become standard over the past few years," and high-performance coaching takes this to the next level. Performance Scoring combines this concept with data and analytics to make high-performance coaching an integral part of a business. "High-performance coaching in business has been prompted in a big way by the desire for continuous learning and development," continues Hearn. How is this trend just now becoming increasingly popular? We aren't sure, but if you're ready to implement high-performance coaching today look no further than Performance Scoring. 
3) Attention will shift from employee engagement to efficiency of employees and managers
The final performance management trend of 2019 is the evolution of the employee engagement wave that has been the buzzword of recent memory. "Engaged employees are essential to the success of a well-performing business," says Hearn. It is unlikely that anyone would argue with this statement, but how can employee engagement be made tangible? Hearn points out that, "a new trend will emerge – that of optimizing productivity and performance." At Performance Scoring we have been on the forefront in stressing that this must be a priority for small and mid-size businesses as they continue to compete against the automation of large organizations. "An emerging trend in performance management technology will focus on how we can empower and support managers to be more effective at their jobs, while helping them become the coach their employees need them to be," Hearn concludes. Performance Scoring has arrived as the leader in performance management technology and will continue to be on the leading-edge of understanding the impact of effective performance management to an organization. These trends may seem like a large undertaking, but you're only minutes away from experiencing them at your company.