HR Dive – From antiquated to automated: How tech is reshaping performance management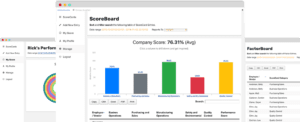 In her recent article for HR Dive, "From antiquated to automated: How tech is reshaping performance management," Lisa Burden discusses how performance management is evolving with technology. First, Burden looks at the overall trend that performance reviews are "becoming more frequent and more flexible" as they evolve to fit the modern workplace. The 20th century methods of performance management (performance appraisals, annual reviews, etc.) have become inadequate. Employers are "providing feedback informally on an ongoing basis, and, for formal discussions, on a more frequent basis," continues Burden.
Next, Burden looks at how some companies are attempting to shift their performance management methods and the resulting benefits they experience. "A documented, holistic, real-time look at performance can be invaluable, and tech can provide just that," proclaims Burden. Although it may be invaluable, this is easily attained and realized at an organization by Performance Scoring's employee and company performance management application. "Instead of sitting in front of a blank white page at year-end, they now have a ton of resources available to them to make a fair and transparent evaluation," declares Mischa Riedo, co-founder of QuercusApp, in conversation with Burden.
Technology Empowering Performance Management
The article is brought to conclusion with observations of technology already in action, providing effective tools for performance management. "Experts say performance management technology is saving time and helping to create ongoing dialogues, all while improving employee engagement," cites Burden. The FactorBoard in the Performance Scoring application houses and displays the information that drives this proactive, ongoing dialogue that has yet to be experienced due to the ineptitude of available management tools. Also, Burden adds that from an HR perspective it allows the department to be "better able to focus on more strategic work," being proactive with direction.
Herein lies the true value in effective performance management, the ability to strategize proactively and more often based on real-time, objective data. Performance Scoring will capture each unique factor (both positive and negative) across the company, departments & teams, and individual employees. Once captured, this empowers a company to realize effective management of the areas where performance is high and the areas where coaching is needed.